---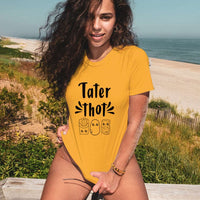 Get ready to embrace your love for all things potato with our latest tee - "Tater Thot"!
Featuring a playful pun on the popular acronym "THOT," this shirt takes your obsession with 'taters to the next level with adorable chibi-style potatoes lined up underneath the text. It's the perfect way to show off your playful personality and your appreciation for this beloved root vegetable.
Made from soft, high-quality materials, this t-shirt is as comfortable as it is stylish. Wear it to the local farmer's market, the grocery store, or any other casual occasion to spread the word about your love for potatoes.
So whether you're a fan of baked, mashed, or fried potatoes, this shirt is the perfect addition to your wardrobe. So why not add a bit of fun to your style with our "Tater Thot" tee today?