---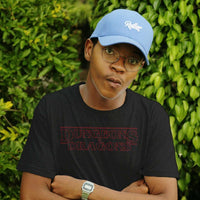 Step into the world of fantasy and adventure with our latest tee - "Dungeons & Dragons"!
Inspired by the iconic Stranger Things logo, this shirt is the perfect way to show off your love for the classic role-playing game and the hit Netflix show. Whether you're a seasoned Dungeons & Dragons player, a fan of Stranger Things, or just love geeky pop culture references, this shirt is the perfect addition to your wardrobe.
Made from high-quality materials, this t-shirt is comfortable and perfect for long gaming sessions or casual wear. 
So what are you waiting for? Grab your "Dungeons & Dragons" t-shirt today and let everyone know that you're ready for adventure, no matter what realm you're in!