---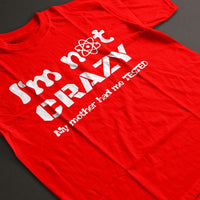 If you're a fan of The Big Bang Theory, then you'll love this hilarious t-shirt that pays homage to one of the show's most famous lines. Featuring the quote "I'm not crazy - My mother had me tested", this t-shirt is perfect for anyone who's ever been accused of being a little bit eccentric.
The bold lettering and playful graphic make this t-shirt a great conversation starter, and it's sure to get a laugh from anyone who's familiar with the show. It's a lighthearted way to show off your sense of humor and let everyone know that you don't take yourself too seriously.
Made from high-quality materials, this t-shirt is soft and comfortable, making it perfect for wearing on any occasion. Whether you're hanging out with friends or running errands, this shirt is sure to bring a smile to everyone's face.
So if you're ready to show off your love for The Big Bang Theory and let the world know that you're not crazy (or maybe you are), then this t-shirt is the perfect choice. Order yours today and join the ranks of other fans who appreciate a good laugh and a great show!